Inzinc Consulting India Pvt. Ltd. offers Fire fighting mock drill training services in Bangalore, Karnataka to help organizations in responding effectively during fire outbreak in their premises or nearby vicinity. 
What is an Emergency mock drill?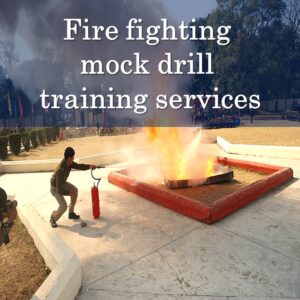 An emergency mock drill is an activity that is used to test the effectiveness of emergency response procedures in an Organization. Emergency mock drills are real time mock exercises that needs to be conducted by organizations periodically to improve and test emergency scenarios and ensure safe evacuation in times of Force Majeure conditions or natural disasters like Fire, flood, earthquake, building collapse, tornado, etc. Man-made disasters like terror attack, war, strike, bandh, etc can also become scenarios for conducting drills. But here, Inzinc offers the mock drill training services for the most popular scenario which is fire outbreak in office premises or building.
What is a mock Fire drill?
A mock fire drill is an activity that is used to test the effectiveness of emergency response procedure in the event of a fire outbreak in and around an Organization's premises. It also helps in practising safe evacuation of personnel in a building that has caught fire. Fire drills can also check the proper working of fire fighting equipment such as fire extinguishers, fire hydrants, fire alarm system, push bars, etc besides access controlled door disablement in the event of trigger of alarm.
We, at Inzinc Consulting India Pvt. Ltd. conduct Mock fire drills at our Client place by our trained professionals who are competent and experienced to handle such training exercises.
Included in our mock fire drill training services is providing our clients with the Observation report on the mock drill that include the details of the drill from an observer point of view and most importantly, the actual evacuation time compared to the expected safe evacuation time set according to the building parameters and type of building. 
For Fire fighting mock drill training services in Bangalore, Karnataka please call Inzinc Consulting India Pvt. Ltd. email us at [email protected]
See also: How to prevent fire at a workplace
For implementation and training on Occupational health and safety management system, click the below links: