How to prevent fire in workplace ?
Many major Industrial fire accidents have happened in India and the World resulting in loss of life and property along with burns and injuries to the personnel present in the organizational premises. So, How to prevent fire in the workplace ? Preventing fire incidents at workplaces take huge efforts not only from the Safety and Health committee of the Organization but also from everyone in the Workplace. This blogs gives an overview of the different ways in which we can prevent fire in workplaces.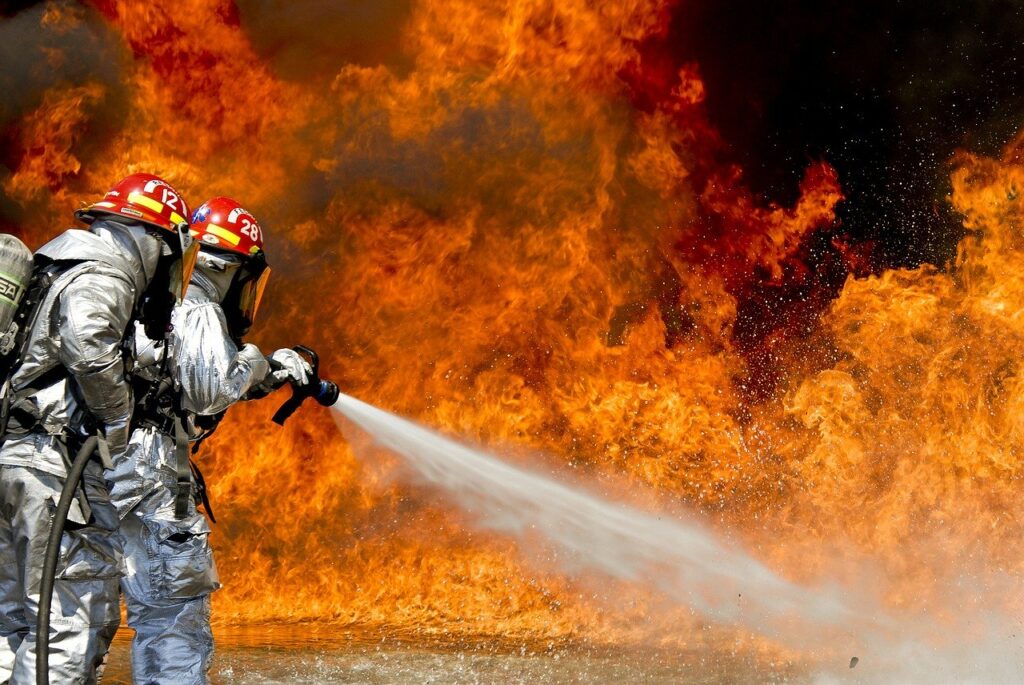 So, how to prevent fire in workplace ? – Implement the below points
1. Ensuring good electrical maintenance
Electric short circuit is the most common cause of fire. Poor electrical maintenance and monitoring is a big contributing factor. Examples of poor electrical system include (but not limited to) loose or frayed wires, broken plugs, overloaded sockets, bad quality electrical equipment. It is best to closely monitor the electrical system of the building and include major electrical safety points in periodic safety audits.
2. Creating and implementing a fire prevention plan
Create a fire prevention plan for workplace fire safety and implement it. This plan normally includes identification of fire hazards, procedures for proper handling and storage of hazardous materials, potential sources of ignition & means of controlling them, and assessment of fire fighting equipment required for controlling every fire hazard.
3. Firefighting equipment is an important way in answering the question on How to prevent fire in workplace
One of the important means to address the question of how to prevent fire in workplace is by using fire fighting equipment. Common fire-fighting equipment should be installed to combat fire situations. These equipment should at a minimum include fire extinguishers, fire buckets, fire blankets, smoke detectors, fire alarms, sprinklers and fire hydrant system. The choice of proper fire fighting equipment requires expertise and experience in fire safety. 
4. Maintaining good housekeeping
Fire hazards can result from unorganized workplace with clutter of paper, debris and other flammable items. Therefore, housekeeping is required to clear the pathways of these flammable items so that the chances of fire spreading is minimized.
5. Forming the emergency response team and assigning roles to team members
Emergency response team needs to be formed with special roles and responsibilities related to fire safety. The team should be cross-functional and must include team leader, fire fighters and fire marshals / wardens. These people should be briefed about their role in the event of a fire in the premises. Provisioning of safe assembly area where all the personnel can assemble after evacuation should be identified and marked in the layout. An emergency evacuation plan for every floor is recommended which shows the pathways to safe emergency exits. Additionally emergency contact numbers should be displayed at prominent locations. These contact should include fire brigade numbers along with police, ambulance, hospitals and other emergency contacts.
6. Ensuring safe storage of chemicals
Chemicals should be stored safely to avoid fires. Storing flammable chemicals near source of heat or places with poor ventilation can contribute in fire outbreak.
7. Conducting Fire drills regularly
Fire drills should be regularly conducted to test the effectiveness of fire safety plan or emergency plan. Fire drills help prepare the organizational personnel on how best to safely evacuate the building in the event of fire. This way the emergency response procedures can also be tested for their effectiveness. Refer Annex D of Part 4 (Fire and line safety) of the National building Code 2016 for fire drill guidelines and the periodicity of drills.
8. Conducting Regular safety audits and inspections
Another important way of answering how to prevent fire in workplace is by conducting safety audits. Periodic safety audits and inspection of equipment for safety needs to be ensured to identify hazards, high risk areas and effectiveness of safety practices. Inspect fire fighting equipment validity and test selected such equipment to ensure they work properly. Electrical system should be examined thoroughly.
9. Following best safety practices
Following best safety practices goes a long way in preventing fire at workplaces. These best practices include (but not limited to):
Lock out and Tag out (LOTO) procedure

Work permits for various types of work

use of appropriate PPEs (Personal Protective Equipment)

Training personnel

Safety audits and inspections and so on
10. Getting certified to Standards
Getting certified to Occupational health and safety standards (such as ISO 45001 OHS standard) is a good way to continuously practice best practices of OHS including fire safety. This way, it is possible to improve the OHS performance including fire safety performance.
11. Providing continuous awareness on fire safety
Workers at all levels should be provided with continued awareness on fire safety through training sessions. They should be taught about
causes of fire and ways to eliminate the root cause

reporting fire safety system weaknesses to the concerned authority

how to use a fire extinguisher (PASS method – Pull the plug, Aim at the base of the fire, Squeeze the handle and extinguish by Sweeping motion)

what are the various classes of fire (A, B, C, D, E)

safe evacuation techniques in the event of a fire and

learning from previous fire incidents in their premises and/or elsewhere
12. Putting up fire safety signage and warnings
Fire safety signage, warnings and posters needs to be displayed at appropriate places to provide continuous awareness and warnings. Prominent warnings include signage on fire exit, emergency exit, safe assembly point, way to safe assembly area, and other fire safety signs.
13. Identifying separate smoking zones
Smoking is also a reason for raking up fire. It is best if the entire workplace is made as a "No smoking zone" particularly for industries dealing with flammable material. For offices who do not handle flammable material, there can be a separate smoking zone or area. All smokers must smoke only in the designated area and not anywhere else. The smoking area must have ashtrays which will be cleaned periodically.
14. Following fire safety legal / regulatory rules and requirements
All legal / regulatory laws related to fire safety must be followed by the Organization since legalities also include the best mandatory guidelines and practices. Few regulations include: 
The Part 4 (Fire and Life Safety) of National Building Code (NBC), consists of the fire safety norms with sections on fire prevention, life safety and fire protection

Fire clearance certificate or Fire No-objection Certificate (NOC) needs to be obtained from the Fire department of the respective State. Fire NOC certifies that the building has been designed according to the norms and regulations that a high-rise building should have to prevent hazardous accidents. The Fire department of the concerned Indian state will issue Fire NOC prior to the construction of the building

Fire insurance policy is required for the Industrial and office establishments where the insurance provider under certain conditions will indemnify (compensate) for the financial losses incurred in fire incidents

The Bureau of Indian Standards (BIS) has published more than 150 standards related to fire safety. For instance, IS 1641 is concerned with the "Code of Practice for Fire Safety of Buildings"

The Section 37 of the Factories Act, 1948, recommends measures on preventing explosions hazards. Even the State level Factories Rules provides fire safety measures to be taken. Example: Section 71 of the Karnataka Factories Rules, 1969 talks about fire protection

Section 38 of the Factories Act, 1948 puts forth the below obligations of the occupier which is

to adopt all practicable measures to prevent the outbreak and spread of fire

to provide safe and effective measures of escape

to maintain the firefighting equipment properly and

to familiarise the workers with the means of escape in case of fire and

to train them about the steps to be taken in case of a fire accident. 
Article by Sudhir GK, Management Consultant
Contact us for OHS consulting assignments at [email protected] and [email protected]
The above article on how to prevent fire in workplace can be used as checkpoints in ensure fire safety in an office / factory.