ISO 22000 Certification Services in Bangalore – Karnataka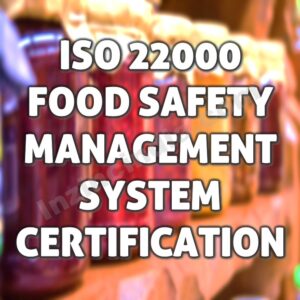 Inzinc Consulting India provides value added ISO 22000 Certification Services in Bangalore, Karnataka along with documentation and implementation guidance. ISO 22000 is the Food Safety Management System (FSMS) standard published by the International Organization for Standardization. The latest edition of the standard is the ISO 22000:2018 Standard released in June 2018. Organizations in the food chain can get certified to this International standard and thereby follow the best food safety practices that are advocated through standard requirements.
Why ISO 22000 Food Safety Certification is important ?
World today has more variety of foods produced than ever before. Organizations have started manufacturing / packing food and food related products thereby reaching the targeted consumer segment. While it is enjoyable to taste food in this huge variety, concerns of Food Safety come along with it. Organizations are morally and legally are obligated to maintain food safety practices that eliminates the possibility of consumers getting contracted with illnesses that are food borne.
Therefore, Organizations in the food chain need to implement Food Safety best practices to ensure that the consumers take in food that is safe. These best food safety practices are derived from International Standards on Food Safety Management System and one such standard is the ISO 22000:2018. The ISO 22000 combines the principles of the Hazard Analysis and Critical Control Point (HACCP) system and application steps advocated by the Codex Alimentarius Commission.
ISO 22000 Certification Benefits
Organizations in the food chain can reap the following benefits by getting certified to ISO 22000 standard:
FSMS Certification provides the framework for reducing food safety hazards and risks and making food safe for human consumption

Through FSMS Certification, Organizations can implement and follow the best practices related to food safety

Certification will build the trust among the Customers and other relevant interested parties of the organization

Since Customer trust is enhanced, it is possible that the organization gets more sales orders which means enhanced growth

Public image of the Organization is improved

Best practices help in minimizing the cost that the organization would have incurred in producing food that is not safe for consumer.
ISO 22000 Certification Process
The ISO 22000 Certification Process / procedure is as shown below: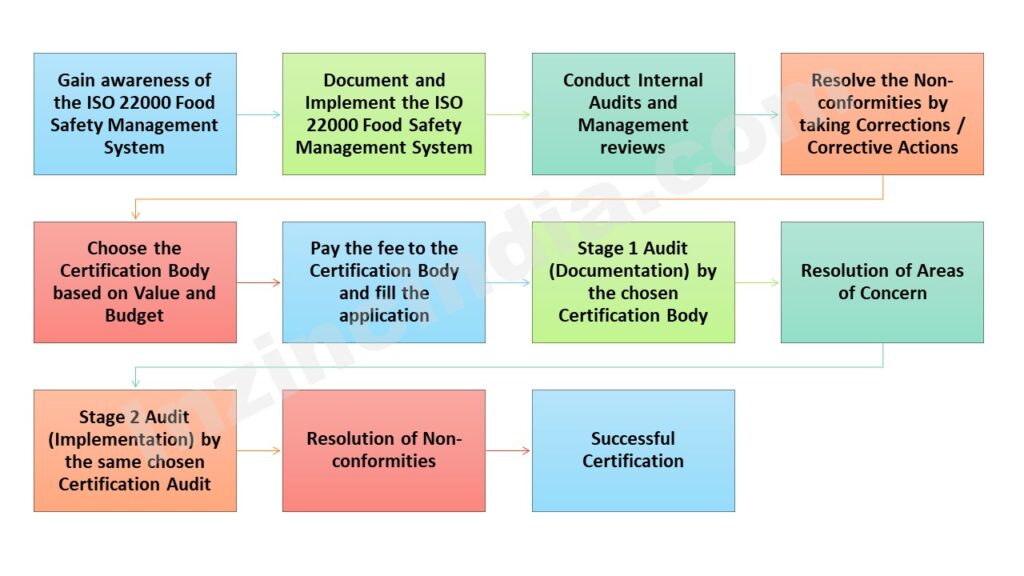 The ISO 22000 Certification process steps are enlisted below:
Gain awareness of the ISO 22000 Food Safety Management System

Document and Implement the ISO 22000 Food Safety Management System

Conduct Internal Audits and Management reviews

Resolve the Non-conformities by taking Corrections / Corrective Actions

Select the Certification Body on the basis of Value and Budget

Pay the fee to the Certification Body and fill the application

Stage 1 Audit (Documentation) by the chosen Certification Body

Resolution of Areas of Concern or Non-conformities

Stage 2 Audit (Implementation) by the same chosen Certification Audit

Resolution of Non-conformities

Successful Certification to ISO 22000
Back to Inzinc Consulting India Home page