Introduction to ISO 45001 Awareness

Training

in India – Occupational Health and Safety Management System Training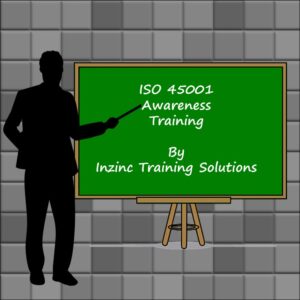 Inzinc Consulting India Pvt. Ltd. (formerly Inzinc Products and Services) brings to you ISO 45001 awareness Training in India. This training helps an individual and an Organization to learn the basics of the ISO 45001:2018 Occupational Health and Safety Management System (OHSMS) Standard before implementing it. By registering to this training, professionals will learn the basics of OHSMS as per the ISO 45001:2018 Standard. This training is available to you through online as well as on-premise training modes as per the convenience of our Customers.
Learning objectives of the ISO 45001 Awareness training
The ISO 45001 Awareness Training is conducted with the below learning objectives to achieve after the training session:
Understanding the basics of Occupational Health and Safety Management System and ISO

Learn briefly the ISO 45001:2018 Clauses 

Learn the benefits of implementing the Occupational Health and Safety Management System
Audience for the ISO 45001 Awareness Training
The right audience to take the ISO 45001 Awareness training are:
Professionals (Managers and executives) who are nominated for the implementation of ISO 45001 Standard in their Organization

Process Owners or Departmental Heads of the Organization

Top Management

Employees
Brief topics covered in the Awareness training
The topics that are covered in the ISO 45001 Awareness Training session are as below:
Basic Occupational Health and Safety definitions and concepts

What is an Occupational Health and Safety Management System ?

What is ISO ? What is its brief history ?

What is ISO 45001 ?

Benefits of ISO 45001 standard implementation

The PDCA Cycle

Hazard identification and risk assessment (brief explanation)

Briefly understand each of the ten clauses of ISO 45001 standard.
Highlights of the Course
Classroom learning

Examples wherever relevant

Case studies

Exercises
Duration of the training
The duration of training is 1 day with minimum of 7 hours of training
Mode of the training
We conduct training through two modes:
On-premise training at our Customer's premises or our training centers

Remote online training with live Presentation through video-conferencing
Faculty for the training
Experienced tutor with Industry and auditing experience who is also an ISO 45001 Lead Auditor
Trainee Evaluation
Trainees will be given a simple test on the training topics. These may be mostly objective based with few descriptive questions.
Evaluation and Certification
Candidates will be awarded soft copy certificates within 1 working day after the course subjected to passing the test on training topics. Hard copies will be couriered post training session within a working week.
Study Material
Candidates will be provided with hard copy slide notes on the above topic. For trainees enrolled into the online training mode, we will provide them with the soft copy slide notes for their reference.
Fill up the training registration form below and submit the details to enable us to provide you with an offer.
Pre-requisite for training
Though we put our best efforts to train personnel in limited time, as a pre-requisite it helps trainees immensely if they have glanced through the ISO 45001 standard at least once before attending the training session. By this, their level of correlating and understanding the concepts and clauses is enhanced.
---
Online ISO 45001 Awareness Training
Besides On-premise training, Inzinc Consulting India Pvt. Ltd. conducts Online ISO 45001 awareness training in Bangalore (Bengaluru) and other places like Bagalkot, Belgaum (Belagavi), Bellary, Bidar, Bijapur, Chamarajanagar, Chikmagalur, Chitradurga, Coorg, Dakshina Kannada, Davanagere, Dharwad, Gadag, Gulbarga, Hassan, Haveri, Honnavar, Hospet, Hubli (Hubballi), Kolar, Koppal, Mandya, Mangalore (Mangaluru), Manipal, Mysore, Nanjangud, Raichur, Ramanagaram, Ranibennur (Ranebennuru), Shimoga (Shivamogga), Tiptur, Tumkur, Udupi, Uttara Kannada, Yadgir, and other cities in Karnataka.
Inzinc Consulting India Pvt. Ltd. also conducts Online ISO 45001 awareness training in Chennai, Coimbatore, Hyderabad, Amravati, Vizag, Vishakapatnam, Trivandrum (Thiruvananthapuram), Kochi, Panjim (Goa), Pune, Mumbai, Nashik, Gandhinagar, Vadodara (Baroda), Ahmedabad, Jaipur, Johpur, Chandigarh, Delhi, Kolkata, Bhopal, Baddi, Gurugram (Gurgaon), Noida, Gwalior, Indore, Haridwar, Dehradun, Jamshedpur, Durgapur, Bhubaneswar, Raipur and other cities in India.